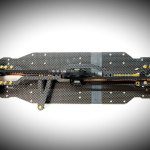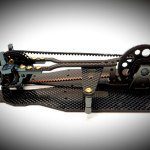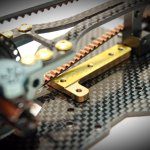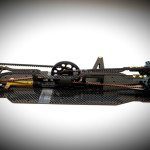 RO-MTS-T3M-CK
$189.95
MTS T3M Conversion kit split top, one piece mount. Rear brass weight.
Description
Additional information
Description
MTS T3M, R3-G, R3-c and R3-Pro, Conversion kit split top, one piece mount.
Included new features based on MTS T3M:
– Motor mount, Spur gear mount and servo mount are made as a single piece assembly in a line with the chassis.
A single piece mount, not only has enhanced strength from a simplified assembly, but also can increase the chassis flex at the center line to increase traction with more roll.
– Change to single piece 2nd desk, with 4 bushing screw holes, to adapt for different track conditions through the application of different bushing screw, combinations.
– Since its weight is lighter than the original kit, included is a 15g brass weight to install at the rear to increase rear traction.
There are also different screw holes on the brass weight to adjust the rear stability.
– The best point is that this kit will suit all owners of  of the chassis listed below.
MTS T3M
R3-G
R3-C &
R3-Pro